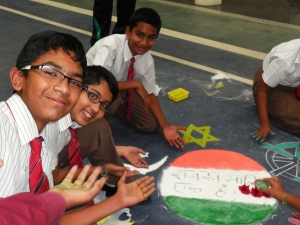 Middle Year Programme

Children enter the "Middle School" in Grade 6. In Grades 6-8 the programme is designed as per CBSE curriculum with interactive, hands on sessions. Students are taught to handle the semester portions gradually to get trained to appear for the board examination in the senior classes. In middle school, students prepare to tackle deeper and more discreet subjects with specialist teachers facilitating the learning process. The programme helps children to prepare in depth for Grades 9 and 10. We align our curriculum to rigorous standards, preparing our students to undertake the board examinations at Grade 10. In Middle Year Programme there are many enrichment activities. The Middle School curriculum focuses on:
Helping students "learn how to learn"
Developing effective work habits
Developing self- confidence
Developing conceptual understanding
Building background knowledge
As students transition from childhood through adolescence, Middle school offers a caring, safe and supportive environment in which students can thrive on change, prepare for high school and establish good habits of mind for lifelong learning.