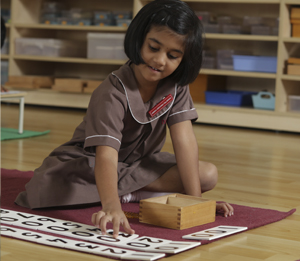 Montessori Programme
Each child is unique and we need to recognise and hone the multiple skills of the children into individual strengths.
The pre-primary Montessori environment enables children to work with freedom with specific materials for specific concepts at their own pace.
Individual and social development is fostered in each child by a unique way where mixed age groups are in the same environment. Hence, children of age groups 3 to 6 years come together to form spontaneous and harmonious interaction.
Montessori Programme is offered at an early childhood level : 3 - 6 years.
It is a three year programme.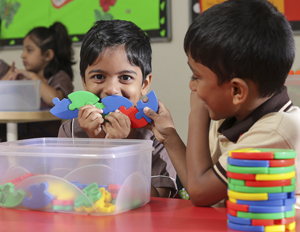 Kindergarten

These are the "foundation years" during which early linguistic, arithmetic basics, expression, physical fitness, constructive socialization, good habits like sharing, helping is built, using the multiple intelligences.
Learning through play way method is encouraged.
Kindergarten Programme is offered at an early childhood level : 4-6 years.
This is a two year programme.