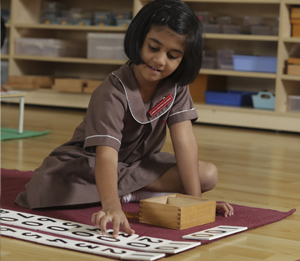 Montessori Programme
The Montessori programme is based on self- directed activities, hands on learning and collaborative play that children start on completing 3 years of age. The classrooms are set up in such a way as to best facilitate children making their creative choices in learning. One of the salient features of a Montessori education is that of a multi-age classroom where children of ages ranging from 3 years to 6 years come together in a single environment to form spontaneous and harmonious interaction. It provides an opportunity for children to interact not just with their peers but also children older and younger to them. This helps children learn in a cooperative environment and work both in groups and individually to develop to their maximum potential. The pre-primary Montessori environment enables children to work with freedom with specific materials for deeper understanding of Language, Mathematics, Environmental Science, social interactions and much more at their own pace.
---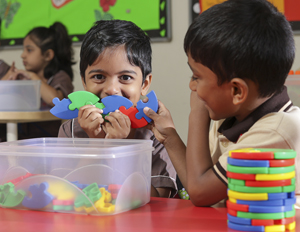 Kindergarten

The Kindergarten programme is a child centered, developmentally appropriate, integrated programme of learning for 4-6 year old children. The programme aims at establishing a strong foundation of learning in a safe, caring and play based environment that promotes physical, social, emotional and cognitive development of all children. It allows them to learn through play and inquiry setting them on a path of lifelong learning. The programme specifically develops competencies that they will require to start primary school with confidence.